'Extinction' is a hack and slash 'Attack on Titan' mashup with 150-foot ogres
Rate this title
Instead of a 3D maneuvering gear, players will be using a whip and their parkour skills to get around the cities and to fight against the giant ogres.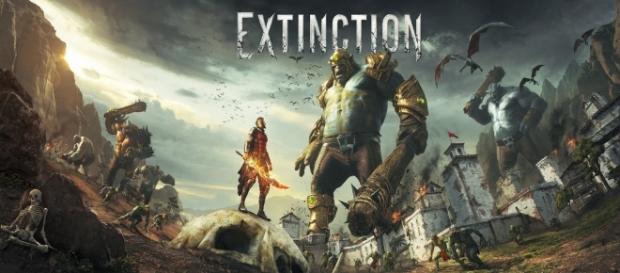 "Killer Instinct" developer, Iron Galaxy, has now announced a brand new game that will have players go against 150-giants who have breached the city. While the premise does make it sound like another "Attack on Titan" video game, the entire concept is apparently a bit different. Instead of Titans, players will be going against melee weapon equipped ogres in the developer's latest title, "extinction."
The same, but different
There are undoubtedly some similarities with the upcoming game to the popular anime franchise, but Iron Galaxy has tweaked some of the elements to really make the game's concept their own. Instead of the 3D maneuvering gear used by the Survey Corps members, players of the new game will be using a whip and their parkour skills to get around the cities and to fight the giant ogres.
The game's concept
According to the developers, players will be taking the role of Avil, one of the last Sentinels that are the only ones with the ability to take down the giant beasts. The Giants, called the Ravenii, are hell-bent to annihilating all human life and to bring them to extinction, hence the title.
Based on the recently released announcement trailer, the Ravenii are able to regenerate their limbs and may only be killed by decapitation. The beasts are also accompanied by different smaller minions, which includes a flying gargoyle-type creature.
Gameplay teaser
The recently released video trailer gives players a taste of the fast-paced action that the upcoming title will be offering. Unfortunately, the trailer itself is only a cinematic showing and does not contain actual gameplay.
However, the end part does show a brief portion of the game's intense gameplay. Aside from getting a strategic position to slay the giant ogres, the game will apparently feature a hack-and-slash mechanic to eliminate the smaller foes.
Iron Galaxy has announced that they will be revealing more details regarding "Extinction" during the upcoming 2017 Electronic Entertainment Expo (E3) event. The developers did reveal that the game will contain an "abundant" single player campaign that will include a lot of side missions.
Players will be able to utilize different fighting styles that will be supplemented with different skills unlocked through the game's extensive skill tree. It was not confirmed if the game would sport a multiplayer mode.
"Extinction" is expected to be released in the first quarter of 2018 for the PlayStation 4, Xbox One, and Windows PC.
Click to read more
and watch the video
or