'Dragon Ball Xenoverse 2' DLC4: Parallel Quests with Ultimate Finish and attacks
Here are all the attacks for the paid and free version of 'Dragon Ball Xenoverse 2' DLC 4 including video of Parallel Quest with Ultimate finish.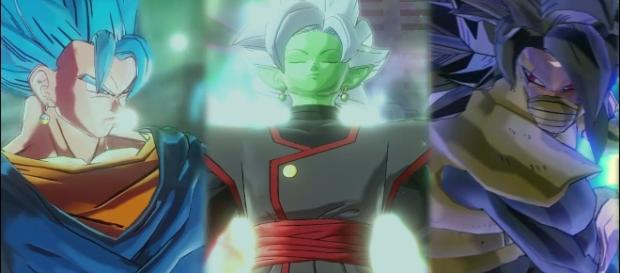 The paid and free version of the latest expansion dubbed as "#Dragon Ball Xenoverse 2" DLC Pack 4 has been released worldwide. The downloadable content is now available to the players in platforms like PC, Xbox One, and PlayStation 4. Here are the list of attacks in both the free and paid version as well as details on the #Parallel Quests of the DLC.
Parallel Quests
The paid version of "Dragon Ball Xenoverse 2" DLC Pack 4 has three new Parallel Quests. The first is dubbed as "PQ110: Heretics from Dark World," which features Blue Vegito defeating the enemies. The plot revolves around the trouble originating from the Demon Realm punishing people for defying a god.
In the video uploaded on YouTube by Anime Games Online, players can see all these new quests featured in the paid DLC. The YouTube user completed all the quests with an impressive feat of a Z-Rank and Ultimate Finish. In addition, the footage also contains the win and lose conditions as well as the rewards that players can earn.
The second quest is titled "PQ111: The Zero Mortal Plan." In the video below, it starts at the 14:02 mark. The story points the responsibility to the player to aid Zamasu in his Zero Mortal Plan after his fallout with Goku Black. The second quest features Fused Zamasu destroying enemies.
The final quest is dubbed as "PQ 112: Advent of the Mighty God Zamasu." You can check it on the video below at the 29:59 mark. It features a custom Freiza Race character adorned with SSJ4 Goku hair and tail accessories.
In this quest, as a player, you only need to worry about fighting.
Attacks available on free version
Players can use all five attacks released in the free version of the fourth downloadable content of the game. They can purchase it at the TP Medal Shop, which is only open during weekends. In our previous article, we have shared all the items, accessories, and costumes of the free DLC.
Players can purchase the Spirit Stab for 200 medals at the TP Medal Shop. They can also get the Savage Strike and the Dual Masenko attack for 200 medals and 170 medals respectively. These attacks are available only on June 30. In addition, the Burning Strike can be availed for 250 medals while the Sword of Hope Attack can be purchased for 300 medals. These attacks will only be available at the TP Medal Shop on July 7.
Attacks in the paid DLC
Unlike the free DLC, the attacks in the paid version can be earned randomly from the three new Parallel Quests. There are five attacks included in the paid "Dragon Ball Xenoverse 2" DLC Pack 4. This includes Divinity Unleashed that can be earned from quest 110. Players can also get the Lightning of Absolution, and Holy Wrath from Quest 111. They can get from Quest 112 the Blades of Judgement and the Divine Wrath: Purification attacks. #Paid and free Attacks