'Dragon Ball Xenoverse 2' DLC4: free & paid content, switch release & more
Latest and official information about the free and paid contents of 'Dragon Ball Xenoverse 2' DLC pack 4 released including game's release on Switch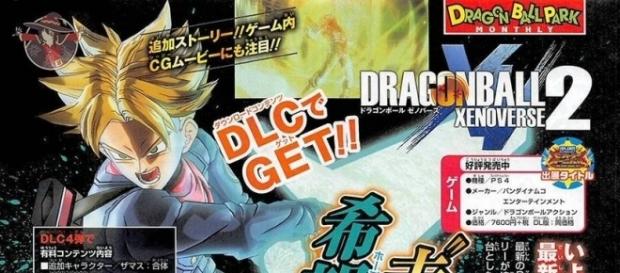 "Dragon Ball Xenoverse 2" DLC Pack 4 paid and free content has been recently revealed through Shuiesha's V-Jump magazine. While the release date has not been officially confirmed, several reports claim that the downloadable content will be available starting June 27.
Paid content
While fans are waiting for the unspecified release date of the fourth DLC of "Dragon Ball Xenoverse 2," the content of the paid version is just recently confirmed through the Japanese magazine Shuiesha's V-Jump's latest issue.
In this version, players will get two new playable characters. Fused Zamasu and SSGSS Vegito, as previously reported will be taking the action-packed game a notch higher with their moves and skills.
Aside from them, players will also enjoy the new story mode titled "Warrior of Hope." This story mode will be about the Future Trunks saga. A new playable stage dubbed as "Devastated Future" will also be made available in the titles paid downloadable content. In addition, there will be three new Parallel Quests and five new attacks that fans of the fighting game will surely enjoy.
For those who have been requesting for new outfits and clothing for their characters, the paid version will introduce two new costumes. This includes the Super Saiyan 4 Goku costume. Players will also get five new Super Souls with the game's paid DLC Pack 4.
Free version
For the free version of the game's DLC Pack 4, players will receive new – Oozaru, Yajirobe costumes from the TP Medal Shop. Aside from those, new accessories will also be available in the said shop.
This includes Oozaru face and tail, and Majin symbol exclusive for Earthlings.
Fans will also get the latest versions of different game characters. This includes Kid Trunks, Future Trunks, SSGSS Goku, and SSGSS Vegeta. Five new attacks will also be available in the game's free downloadable content. Moreover, "Future Trunks" and Bojack" raid quests will be introduced to the game with the release of the free DLC version.
Switch release date
It can be recalled that Bandai Namco previously announced that the widely played title based on the popular anime series would be released in Nintendo Switch. While players are still waiting for the official release of the title's fourth DLC pack, the Switch released has been officially confirmed by the game publisher. Users of the hybrid console can get their hands on "Dragon Ball Xenoverse 2" starting September 7, 2017. While the release date is for Japan only, regions like North America and the UK will soon be announced.
Click to read more
and watch the video
or