'Dragon Ball Xenoverse 2' DLC pack 4: SSJ4 costume, Saiyan Tail, & more revealed
Latest official information about DLC pack 4 contents of "Dragon Ball Xenoverse 2" revealed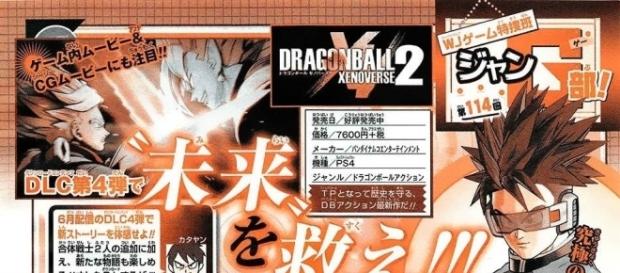 Today, Bandai Namco International revealed new details about the content of the DLC Pack 4 of "Dragon Ball Xenoverse 2." While it was previously known that SSGSS Vegito and Fused Zamasu would be released along with new clothes and moves, more interesting contents were revealed.
Official contents
In a Japanese publication Shuiseha's Weekly Shonen Jump magazine, more contents about "Dragon Ball Xenoverse 2" DLC Pack 4 have been detailed. This includes Super Saiyan 4 costumes.
One interesting revelation about the next downloadable content is that players will be able to equip their chosen characters with Goku's SSJ4 costumes.
Aside from that, the magazine also revealed the pack's story mode, which would involve Super Saiyan Rage Trunks vs Fusion Zamasu.
Currently, it is still not clear if Super Saiyan Rage (SSR) Trunks would be playable as it was not listed on today's listing.
The official content of the fourth DLC pack for the game includes playable characters namely SSGSS Vegito and Fused Zamasu. It would also have a story mode, which is Future Trunks Saga. Aside from those, Devastated Future City would be the game's new stage. Fans would also experience 3 Parallel Quests, 5 new attacks, and 6 new Super Souls. There would also be 2 new costumes and two new accessories. For the game's free update, Bandai Namco has not yet revealed the details.
A Saiyan Tail
Among the highly requested character feature in the game is the Saiyan tail. In the upcoming downloadable content, fans will be able to style their character with the Saiyan Tail as part of the SSJ4 costume.
While some are looking forward to having tailed characters in the game, most likely, if there is a third game installment, Bandai Namco would be generous enough to grant this request from fans. For now, the tail from the costume would do well.
Release date
In the previous information released by the company, the DLC pack 4 is scheduled to release in June. The vague information remains just as ambiguous as no additional details were revealed about the specific date. However, some fans speculate that it might happen during E3. While some other believed that it would be made available on the last part of June.
"Dragon Ball Xenoverse 2" is currently playable on PS4, Xbox One and PC, with a Switch version rolling out soon. There are three DLC Packs that are currently available. These can be purchased using the season pass. The fourth downloadable content is expected to be the final content of the popular game.
Click to read more
and watch the video
or