'Naruto to Boruto: Shinobi Striker' game release not happening soon
Rate this title
Famitsu revealed more details about the highly anticipated wall running ninja action game, 'Naruto to Boruto: Shinobi Striker'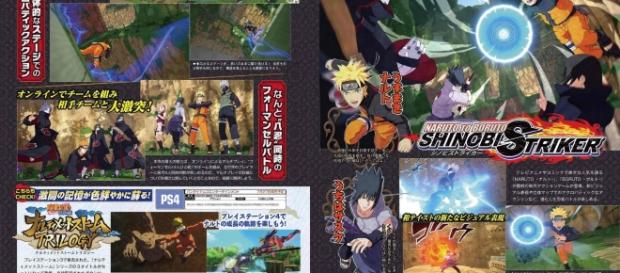 Bandai Namco Entertainment previously announced a new game from the highly popular manga series dubbed as "Naruto to Boruto: Shinobi Striker." The game even became more interesting to the gaming world when the publisher released its trailer. With the phenomenal success of the Ultimate Ninja Storm series, it is inevitable for fans to set high hopes for the next offering from the publisher. However, a recent scan revealed that the game might not be arriving soon.
Latest update
Famitsu, a Japanese gaming magazine recently revealed in its latest issue several updates about the much-awaited ninja game, "Naruto To Boruto: Shinobi Striker."
The scanned copy of the publication was translated by saiyanisland and relayed that the game is only 40 percent complete.
No additional explanation was given as to the latest progress of the upcoming title. With this information, it is safe to assume that the previous trailer released on April 6 was an earlier variant of the game.
Features, and other details
The upcoming title is set in the world of the fan favorite Naruto. However, this latest offering promise to introduce a relatively different gameplay with an expansive open-world 3D environment to explore. Among the most recent features include scale walking and vertical assaults.
Larger maps would also provide players a more interactive gaming experience. Infused with the latest gaming engine technology, Bandai Namco Entertainment assures players of fully animated cutscenes, a vivid array of colors, and ultimate third person ninja and ninjutsu action.
Apart from those, the game will also feature eight ninja gameplay with a continuous four-versus-four-team battle. The game would also allow co-op battles with friends and would include various anime characters such as the Akatsuki members, Sasuke, Sakura, and even Naruto.
Moreover, the game will be released on PC/Steam, PlayStation 4, and Xbox One. It would be available for $59.99 and expected to be launched in Japan first while other regions including the UK and the US will follow after.
With the recent progress of "Naruto to Boruto: Shinobi Striker," several fans speculate that Bandai Namco Entertainment would definitely launch the game at the E3 event happening between June 13 and June 15.
The game publisher is yet to comment on this information. We will give you more update as soon as information becomes available, for now, check out the game preview below.
Click to read more
and watch the video
or