'Dragon Ball Xenoverse 2' data miners 'confirm' possible Future Trunks upgrade
Dataminers say Super Saiyan Rage Trunks is in 'Dragon Ball Xenoverse 2' DLC Pack 4.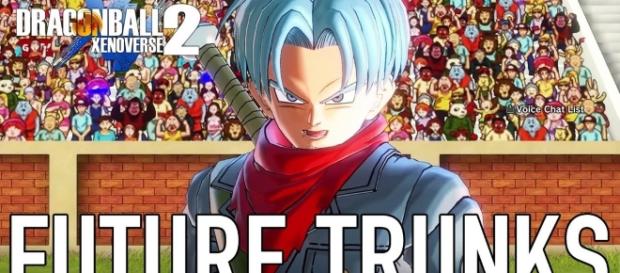 There is something to be excited about in "#Dragon Ball Xenoverse 2," should we trust data miners' recent information regarding the highly-anticipated downloadable content called the DLC Pack 4. It's a hot topic over at Reddit, and fans have flocked on the thread to gossip on what could be an upgrade for #Future Trunks courtesy of the new DLC.
Redditors are widely speculative, but the source of the information is a reliable data miner who goes by the moniker Komodoxeno. He's dug up game files and apparently believes that Trunks new form will be called Super Saiyan Ikari – Ikari, which is Japanese for 'anger' or 'rage,' depending on the context.
Up against Ikari
Fans aren't quite sure themselves, but they sure are hopeful to see Ikari Trunks on DLC Pack 4 – after all, Bandai Namco had dropped hints of the form through screenshots showing the new game pack and the Nintendo Switch version. A lot of Redditors are positive, though, considering Komodoxeno's info proved correct before.
"Neat, it was to be assumed there would be a Rage Trunks, but it's nice to have more evidence and essentially unofficial confirmation, wrote LunarWingCloudPSN. "I was here at the time DLC 3 Pack was data mined by the same guy so I am taking this as pretty much confirmation."
Attacks, parallels and more
Komodoxeno had been keeping himself busy with content list apparently – most of them he revealed on Twitter. According to the data miner, DLC Pack 4's Future Trunks would arrive with a new attack with him called Final Hope Slash and is the only change found in his move set.
Updated content list for future updates including DLC 4:) Let me know if I missed anything. Thanks to @ko_jokai and JackThorn pic.twitter.com/J42d0866Zf

— コモド Komodo (@komodoxeno) May 22, 2017
Meanwhile, Zamasu gets a Heavenly Arrow, God-Splitter and the Instant Severance. Players will be glad to know that previously disabled moves will be usable when the DLC takes effect next month. As for SSGSS Vegito, Spirit Stab is a go, and custom avatars should be able to learn Burning Strike soon.
Komodoxeno also found that DLC Pack 4 will have three new parallel quests in tow, and players could be treated to a new playable character in the form of Fused Zamasu, who will supposedly be accompanied by Vegito Blue.
Judging from Bandai Namco's earlier released screenshot's though, it's sort of a confirmation that Fused Zamasu will be equipped with Lightning of Absolution and Blades of Judgment. An earlier attempt by Komodoxeno to data mine "Dragon Ball #Xenoverse 2" says the same, and that these moves were there all along, merely tucked among the codes.
"Dragon Ball Xenoverse 2" DLC Pack 4 will arrive June with the Nintendo Switch version slated for release this fall.