In part five of the Blasting News series, "The penny stocks of Kirkland Lake," readers were presented with charts for shares in an unnamed company that trade on the TSX Venture Exchange, from both BigCharts.com and Stockhouse.com. Charts with BigCharts show the shares near $4 in mid-2012, while charts with Stockhouse show the shares near $0.03 during the same period.
A likely cause of this discrepancy is that adjustments for consolidations have been removed from the chart; whether intentionally, or in error, is difficult to determine. Since the article has been published, the charts of the unnamed stock with Stockhouse remain unchanged.
Another TSX Venture stock showing wildly different prices on Stockhouse and BigCharts charts is Goldstar Minerals Inc. (TSXV: GDM). Stockhouse shows GDM stock trading between roughly $0.06 and $0.12 in mid-2012.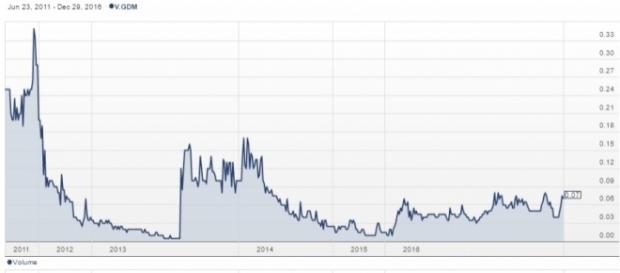 BigCharts has GDM stock trading between roughly $1.50 and $3.00, during the same period. Further, the Stockhouse chart shows a sharp rally, from $0.01 to $0.12, between the last trading day in August 2013 and the first trading day in September. Shares are more or less flat through the same period with BigCharts.
Inaccurate performance data
On August 30, 2013, Goldstar completed a one-for-20 consolidation, or reverse split, an adjustment for which appears to be missing from the Stockhouse chart.
As a result, Stockhouse is reporting a five-year return of -59.92 percent for GDM, when it appears that shares actually lost over 95 percent of their value. Prices after September 2013, from both BigCharts and Stockhouse, appear to agree. A double check with a chart offered by the Toronto Stock Exchange shows pre-consolidation prices in agreement with BigCharts.
Goldstar Minerals came to the attention of this reporter after searching the usernames of people appearing to tout the unnamed company's shares from part five in the Kirkland Lake series.
There appears to be a user on Stockhouse who has an affinity for shares for which the website presents charts without split adjustments. In addition to misleading investors who use Stockhouse to perform research, charts from such a seemingly respected website would seem to be the perfect tool for a penny stock distributor, or just about anyone else, attempting to convince a naive investor to buy shares.
Also in part five of the Kirkland Lake series, charts for stock in BonTerra Resources Inc. (TSXV: BTR), which underwent a one-for-20 reverse split, in 2014, and Baidu, Inc.
(Nasdaq: BIDU), which underwent a 10-for-one split, in 2010, were presented. It is clear that, when it wants to, Stockhouse is capable of producing charts with proper adjustments for splits and consolidations.
Convenient for those looking to offload stock
If, for example, Stockhouse had entered the 2013 Goldstar reverse split as a split, in error, it would give the shares too low a price in the period preceding the action. It seems quite convenient that the apparent error in Stockhouse data inflates performance numbers, particularly when considering that other charts produced by the website appear error-free.
Such an error, intentional or not, on a chart for well-known, highly liquid BIDU shares would be noticed quickly, with many eyes comparing data. Further, Baidu does not offer shares at discounts to their market value via private placements to small investors; Stockhouse operates a service that matches companies with smaller buyers.
BIDU stock has tended to go up; a result of reporting increasing earnings per share most years: $32.49, in 2015. Goldstar has no revenues and a loss of $0.05 per share. Distributors of BIDU shares have provided a truly valuable service to those who bought them. BIDU stock has returned more than 1,000 percent, compared with an apparent loss of over 99 percent for GDM stock. Distributors of Goldstar stock, particularly before 2015, appear to have done little for investors, other than find a way for them to lose their money.