Adobe Systems Incorporated (Nasdaq: ADBE) stock up on fourth-quarter 2016 earnings
The software company reported EPS of $0.90, beating expectations by 4.7 percent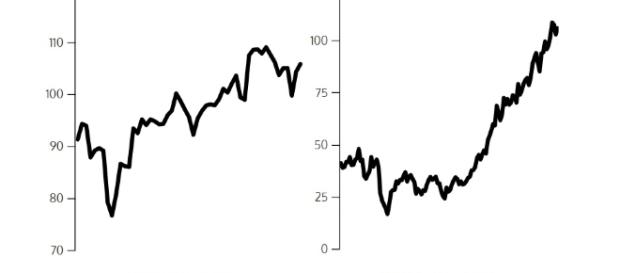 Adobe Systems Incorporated (Nasdaq: ADBE) stock was up over one percent to $107 in the after-hours session after reporting its fourth-quarter 2016 financial results. Highlights of the results include EPS of $0.90, beating expectations by $0.04, or 4.7 percent and revenues of $1.61 billion, up 23 percent year over year, and beating forecasts of $1.59 billion.
Management with the diversified software company will be hosting a conference call at 5 p.m. ET that may be accessed from the firm's investor relations website. Adobe is headed by Chief Executive Officer Shantanu Narayen and Chief Financial Officer Mark Garrett, who earned $2.5 million and $1.28 million in 2015, respectively.
In addition, Narayen exercised $15.37 million in options; Garrett exercised $330,000.
"We enter 2017 with significant market momentum and strong technology tailwinds," CEO Narayen stated in the Adobe release. Garrett noted that Adobe is "uniquely positioned" as a cloud service provider. The CFO cited the Adobe segment driving both the top- and bottom-lines.
ADBE stock up 174 percent over 10 years, 14 percent over 12 months
Adobe first offered shares in August 1986. Since then, the stock has returned 51,772.4 percent, compared with a gain of 1,027.5 percent by the broad market, as measured by the Dow Jones Industrial Average. Over the past 10 years, ADBE stock has gained 173.9 percent, compared with 57.9 percent for the Dow. Over the past 12 months, ADBE and the Dow have gained 13.0 percent and 13.9 percent, respectively.
The creators of the widely used Adobe Acrobat Reader, among other software, currently pay no dividend. The company did pay regular dividends from the early 1990s to 2005. Going into today's report, Adobe reported holding $4.45 billion in cash and $1.92 billion in debt; the company's debt-to-equity ratio was reported as 26.33 percent.
Double-digit growth forecast over coming five years
Over the past 90 days, the Wall Street analyst consensus for full-year 2017 ADBE EPS has been raised from $3.81 to $3.83. The estimate for today's quarterly results had been raised significantly over the same period, from $0.78 to $0.86, or 10.3 percent.
For the first quarter of 2017, the street sees Adobe growing EPS by 28.8 percent and for the full year: 28.5 percent. Over the coming five years, analysts forecast Adobe EPS to grow by an average of 30.5 percent, annually. Sales are expected to grow again in 2017, by more than 20 percent from estimates going into today's reports, to $7.07 billion. Twenty-eight firms tracked by Yahoo Finance provide Adobe revenue estimates; 26 provide EPS estimates.
Forecasts are likely to change with today's results.
Average ADBE price target of $120.92 among 24 firms
Twenty-four firms currently publish price targets and recommendations for ADBE stock. The targets range from $105 to $134 and currently average $120.92. The consensus recommendation for ADBE is 1.9, where 1.0 is a strong buy and 5.0 is a sell. Major ADBE shareholders include active managers, Fidelity Management & Research, and index-fund giant, The Vanguard Group, which hold 7.09 and 6.34 percent of the outstanding shares, respectively. The reported FMR stake was valued at $3.8 billion going into today's news, while the Vanguard stake was valued at $3,4 billion. #Business