Former US Navy vessel attacked by Iranian-backed Huthi rebels
Vessel was attacked with 24 civilians aboard while performing humanitarian assistance.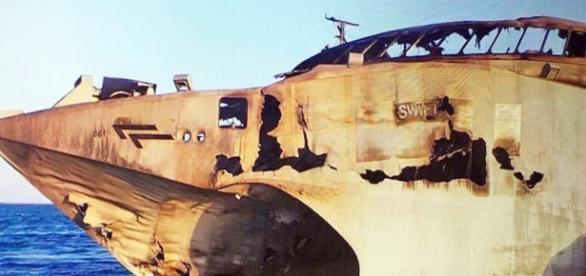 Iranian-backed Yemeni Huthi rebels attacked a former #US Navy vessel this week while it was performing a humanitarian mission in the Indian Ocean, a mission that included extracting wounded civilians from the civil-war ravaged country. Sources report that the ultra-modern looking catamaran, HSV-2 Swift was hit with multiple RPG rockets that were able to penetrate the boat's upper decks along her bow, causing significant structural and fire damage. While details of crew casualties are still somewhat sketchy, spokespersons for the UAE government listed 24 civilians aboard the ship, including Ukrainians, Egyptians, Indians, and a Jordanian. However, there is no official manifest on record presently to detail crew injuries, rescues, and/or deaths.
A "swift" humanitarian vessel
Able to displace 955 tons of water, the HSV-2 Swift boasts a top speed of 45 knots while hauling 600 tons of cargo on its 29,000 sq ft deck. Reports indicate that the US Navy acquired the Swift from a Tasmanian ship builder back in 2003. Having served under the Pacific, European, and Southern Commands for ten years, its primary purpose was to carry out humanitarian missions to war-torn or natural disaster-affected areas such as the 2004 Indian Ocean Tsunami and the 2005 Hurricane Katrina. Recently, the vessel was overhauled prior to being acquired by the National marine Dredging Company in the UAE where it once more continued its role in delivering humanitarian aid.
Swift helped ease the suffering of war victims
The UAE has issued a statement to the news agency WAM that states in part, that over the course of the past year while operating routine voyages to Aden, the Swift was able to transport thousands of tons of humanitarian assistance including medical supplies, electrical equipment, food, and fresh water.
It also transported more than 1,000 injured civilians to safe zones for treatment.
The Swift attack is a warning
The mostly metal ship is said to burn faster than similar ships made of steel and aluminum. Due to the severe damage caused by the RPGs, the Swift will likely face the scrapyard. However, metal and aluminum ships operating in and around the area, including those of the US Navy, should consider the attack on the Swift as a warning, and be prepared for similar instances. #Iran #Yemen Civil War