History documents destroyed by fire at Moscow Library on 2nd February 2016
News agency Tass has reported that over 1 million of documents were damaged partially or fully destroyed by fire.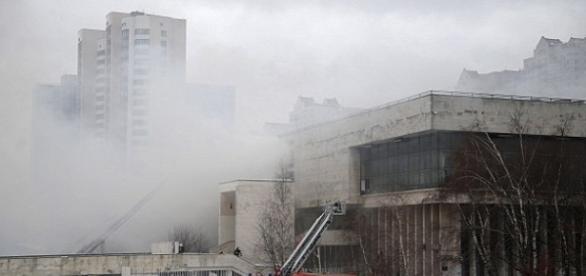 Several historic documents were destroyed by fire in one of the biggest libraries in Moscow. News agency Tass has reported that over 1 million documents were damaged partially or fully destroyed by fire on 2nd February 2015.
The blaze
The main library of the Institute for research information on social sciences in Moscow caught fire during the weekend and it took more than 25 hours to control the blaze. There were approximately 187 firemen deployed at the fire site. The building was damaged by almost 80 percentage.  The Moscow library caught fire on 2400 square yards of the structure, and work was delayed because of narrow passage and fear of collapsing the building.
It has been observed that one part of the building roof was collapsed on the spot and the temperature was very high.
The Threat
The threat of collapse remains high during the rescue operation of the library building as per ministry of Russian Governments. Out of total documents, it is reported that 15% of documents were fully destroyed. People think that this is a major loss and it will take the time to rebuild the building. The library has the largest collection just like a library of congress. Many #Science institutions rely on this library for their learning scope. The library has some of the collections which can't be found anywhere else in the world. The institute's director Yuri Pivovarov feared that building can't be restored again.
Water a major concern
As the site has stored historic documents water can be a cause of concern as well to prevent fire.
Water is causing most of the damage with fire at the site. The fire broke out on the library on Friday evening and it continued through Saturday despite dousing of fire efforts by fire officials. It is reported that books and documents dated back to 1500 are not in danger but as the roof collapsed on one side of the building the exact amount of damage can't be ascertained. Images show that most of the second floor of the library seems to be more damaged than any other areas of the building.
When fire broke out
Library hosts documents dated back to 1600 which includes ancient and modern Eastern European languages. No one was inside the building when the fire broke out on the premises and that's why it took more time to start prevention. The only guard was present at the site and he noticed fire broke out on the second floor of the library and informed the fire officials about it. Fire officials are struggling to take out books and documents outside the building because of heat and blaze. The cause is still unknown but it is assumed that short circuit might be the cause of the fire.
Funding required
 As there were more than 10 million documents and books in the fragile form it can be destroyed anytime by any natural or accidental cause. Funding for digitalization of so much more data is necessary to preserve for the longer term and it can be beneficial to the next generation as well. #Travel #history