Xiaomi Mi MIX 2 alleged renders surface online
The Chinese technology giant is expected to introduce its highly-anticipated Mi Mix 2 smartphone sometime towards the end of this year.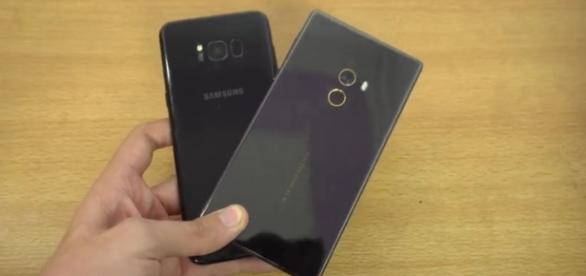 Xiaomi's plans regarding introducing a successor to last year's Mi Mix smartphone have been known to the public since quite some time now. #The Chinese technology giant is heavily-speculated to introduce its high-end device with top-notch specifications towards the end of this year. Recently, three alleged renders of the Mi #Mix 2 smartphone surfaced online. The image of the device has been taken from different angles, therefore, giving users a complete idea of what the device might look like – that is if the leak turns out to be true. The device will be in competition with OnePlus 5 and Samsung Galaxy S8.
A flagship device with top-notch specs
According to the information provided through the alleged leaked renders, the Xiaomi Mi Mix 2 smartphone will probably have extremely thin bezels.
The device's top portion comes with a bezel less design, and so does the bottom portion. According to a report published by Android Headlines, the upcoming smartphone is going to end up being made out of metal. However, there are many other reports that suggest that the smartphone might have a glass or a ceramic look. If these reports are true, then the smartphone is going to feature the largest screen-to-body ratio that has ever been seen in any of the smartphones before.
The smartphone also comes along with a Type-C USB port, which is situated towards the bottom of the smartphone. The device will have speaker grills which will be located at the bottom end of the smartphone. On the basis of the picture, the smartphone is going to feature slightly-curved sides as well. The strange part is that one cannot make out whether the smartphone is going to feature an earpiece towards the front or back panel as it simply cannot be made out through the help of the alleged leaked renders.
RAM and processor details
Other rumors suggest that the upcoming smartphone will be powered by the Qualcomm Snapdragon 835 system-on-chip octa-core processor. The device is further expected to feature a 6.6-inch display is expected to arrive with both 6GB and 8GB RAM options. Apart from this, the smartphone is also expected to pack 64GB and 128GB internal storage, depending on which variant the smartphone user ends up choosing. The smartphone is expected to come in two variants, one that will run on the latest Android operating system and the other which will run on the recently-introduced MIUI 9 operating system. #Chinese Technology