Rumored iPhone 8 could share one feature with the Galaxy S8
The iPhone 8's Touch ID sensor may be placed on the rear of the handset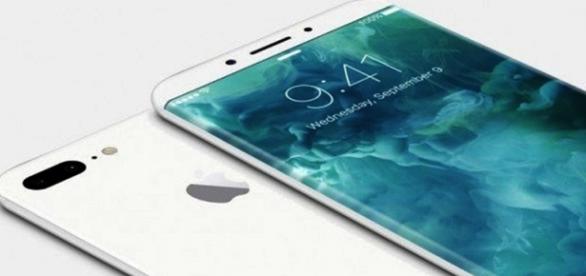 The iPhone 8 or the iPhone X, which is the 10th anniversary edition of Apple's iPhones, has been in the news for a while. Speculations pertaining to the phone's design and specs are rife. However, recent design render leaks have kept fans on their toes, making them wonder how the Cupertino-based company plans to incorporate the Touch ID feature in its flagship device.
Rumors have indicated that the company is working on revolutionizing the iPhone design to feature slimmer bezels and a larger display. Apple's competitor Samsung has managed to reduce the bezels considerably on its Galaxy S8 and Galaxy S8+ handsets, which released on Friday, April 21.
It is expected that the iPhone 8 may take inspiration from the Samsung handsets and take the same route for a particular feature.
What leaks suggest
Leaks pertaining to the upcoming iPhone suggest that the device will undergo major redesign with when compared to older iterations. The leaked renders of the device show a vertically aligned camera at the back, along with the Touch ID sensor. This design is said to be just one of the few options that Apple is looking into for its next-gen smartphone.
A leaked 3D image portraying the rear of the iPhone X also indicates that the device may bear a striking resemblance to Galaxy S8 and Galaxy S8+ when it comes to one aspect of both the devices. The Galaxy S8 devices ditched the physical home button and the Apple phone is expected to do the same.
In doing so, the South Korean company, Samsung faced some problems regarding placing the fingerprint sensor on its latest flagships.
The company finally decided to house a rear-mounted fingerprint sensor. So, in the new devices, the fingerprint scanner is located on the back just beside the primary camera lens. This move has been criticized by some users who complained that the sensor is difficult to reach, and its precarious positioning led users to mistakenly smudge the rear camera lens.
Apple's Touch ID placement
Apple too is facing some issues with its Touch ID sensor placement in the upcoming smartphone. If what a new render leak shows are true, then the iPhone 8, much like the Galaxy S8, may position the Touch ID fingerprint sensor on the rear of the phone. The company may be forced to do so owing to the fact that it is having difficulty placing the sensor under the device's 8's screen. However, it must be noted that the renders suggest that the iPhone 8's fingerprint sensor will likely be housed in the middle of its rear panel and not just beside the rear-facing camera, which is the case for the Samsung flagships. So, the likelihood of accidentally smudging the camera lens while operating the Touch ID is low. #iPhone 8 leaks #Apple iPhone 8 #iPhone 8 Rumors