Star Wars Battlefront news - Death Star DLC & 4th paid expansion announced
Battlefront developers announced some major changes to their game for later this year.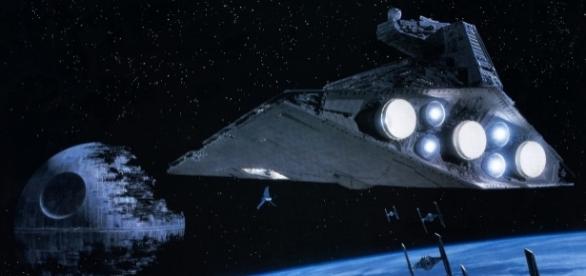 Today at the Star Wars celebration festival EA had a panel discussing the future of Battlefront.  In that panel the Battlefront developers talked about the 3rd expansion pack that is set to make its way to the online retail stores in September.  They also announced what the 4th paid Expansion pack will be.  
3rd expansion pack - Death Star.
The 3rd expansion which is set to drop sometime in September will bring a plethora of great things. Everything from new game modes to brand new maps. In the teaser trailer which you can see below showcases the Death Star from the original trilogy, more star destroyer ships, and they're finally going to be giving us space battles.
From an article released earlier this week, EA had given us another teaser that they will be bringing out a "larger than life" character in the Death Star Expansion pack. One can only guess it's going to be Chewbacca.  Arriving with Chewbacca will be the bounty hunter Bossk.  Also speaking of the teaser EA released earlier this week they announced Battlefront would be getting an offline mode update that will include Fighter fighter squadron and Walker assault. The offline mode update will arrive next week, July 21st, 2016.  
4th expansion - Rogue One Scarif.
The Battlefront panel also announced the release of a Rogue One DLC which will make up their 4th paid expansion pack. The expansion pack is called, "Rogue One Scarif."  If you remember 6 months ago when EA announced the content for the season pass they had only announced the first 3 packs which were the Outer Rim, Bespin, and the Death Star expansions.
EA had excluded the 4th pack saying it was to be announced.  The official tweet from EA is below.  
And one more thing from #SWCE - Rogue One: Scarif is the 4th expansion coming to #StarWarsBattlefront #EAStarWars pic.twitter.com/594cP4sDSf

— EAStarWars (@EAStarWars) July 16, 2016
Now obviously since Rogue, one has not been released yet in theaters we don't really know too much about it. We do know however that Scarif is the planet Rogue One will take place on. We do know that from today's Star Wars celebration panel that Scarif is a "paradise" planet. We also know that we will be seeing a new hero and villain in the expansion pack. EA has announced that Rogue One Scarif expansion pack will be released December of 2016 the same month Rogue One is set to release.   #Video Game #StarWars