The Golden State Warriors win the championship and get revenge
Kevin Durant wins MVP honors and the Warriors got to celebrate in front of their fans at Oracle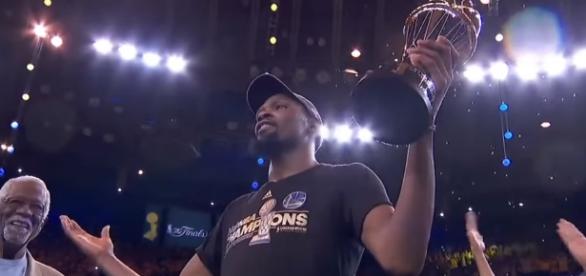 The #Golden State Warriors pulled away from the Cleveland Cavaliers in a high scoring 129-120 game five to win the NBA Championship and get revenge for last year's loss. In the third straight #Nba Finals that these teams have played each other, the winner was finally able to celebrate the championship on their home court. #Kevin Durant was named the unanimous NBA Finals MVP for his historic performance in this series. [VIDEO]
Kevin Durant makes his mark in the history books
For the NBA Finals, Kevin Durant averaged 35.2 points, 8.4 rebounds and 5.4 assists [VIDEO]. He did all this while shooting 55.6 percent from the field, 47.4 percent on three-pointers and 92.7 percent from the free throw line.
This gave Durant the most points in history for a player who averaged at least 50 percent from the field, 40 percent from three and 90 percent from the line, as Penny Hardaway held the previous record of 25.5 points from the 1995 Finals. Durant also had the second most points in a five-game NBA Finals with 176, only passed by Allen Iverson's 178 in the 2001 Finals.
Furthermore, Kevin Durant became the first player since Shaquille O'Neal in the 2000 Finals to score 30 or more points in five straight Finals games. He became the third player to score 25 or more points in their first ten finals games, joining Shaq and Michael Jordan. Durant also became the third player to win a championship and have at least four scoring titles, joining Jordan and Wilt Chamberlain. Additionally, Durant is only the third player to win Finals MVP in his first year with a team, joining Magic Johnson (1980 Lakers) and Moses Malone (1983 76ers).
Finally, his 70 percent shooting in game five was the best ever in a title-clinching game with a minimum of 20 shot attempts.
Other historical marks
The Golden State Warriors finished the postseason 16-1, tying them with the 1983 Philadelphia 76ers and 2001 Los Angeles Lakers for the fewest losses by an NBA team in the postseason. Steve Kerr became the fourth coach ever to win multiple titles in his first three seasons with a team, joining John Kundla, Bill Russell and Phil Jackson. The Warriors also scored over 100 points in all of their playoff games.
This was also their fifth NBA championship, tying them with the San Antonio Spurs for the fourth most by a team. Lastly, this was also the first time in NBA Finals history that four different players averaged at least 25 points per game. Steph Curry averaged 26.8 points, Kyrie Irving averaged 29.4, LeBron James averaged 33.6 and Kevin Durant averaged 35.2 points.