Jelena Ostapenko makes history at the French Open
The young Latvian has made it to the finals, doing something that has not been accomplished in over 30 years.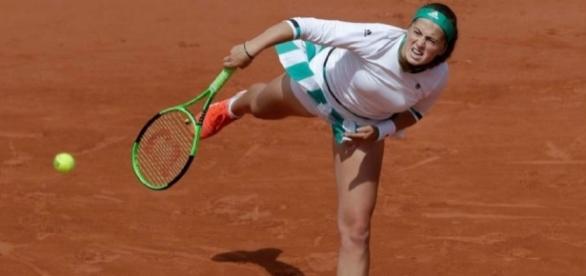 The first matchup in the semifinals for the women's #french open featured thirty-seeded Swiss player Timea Bacsinszky against unseeded Latvian #Jelena Ostapenko. With a trip to the French Open finals on the line, Ostapenko prevailed over Bacsinszky. In doing so, she made history -- and on her 20th birthday no less. The second matchup of the day had three-seeded Romanian #Simona Halep against two-seeded Czech Karolina Pliskova, in which Halep prevailed.
Ostapenko makes history at the French Open
Jelena Ostapenko defeated Timea Bacsinszky 7-6 (4), 3-6, 6-3 to make it into her first-ever Grand Slam final. However, it is not only her first Grand Slam final, but the first time that a Latvian player has reached a Grand Slam final.
The 47th-ranked Ostapenko also became the first unseeded player to make it to the finals at the French Open since 1983, when Mima Jausovec lost to Chris Evert. In fact, she is only the fifth unseeded women to reach the final at Roland Garros since the Open Era began in 1968.
Ostapeneko has never won a WTA title, but now the French Open presents a chance for to her to get her first one. The last man or woman to have the French Open be their first title was Brazilian Gustavo Kuerten. Oddly enough, Kuerten won that title twenty years ago to the day, which happens to be Ostapenko's birthday. The furthest that she had previously gone in a Grand Slam was this year's Australian Open, when she got to the third round.
Halep defeats Pliskova
Simona Halep defeated Karolina Plishova 6-4, 3-6, 6-3 to advance to her second French Open final.
The last time she got to the final at Roland Garros was in 2014, where she lost to Maria Sharapova 6-4, 6-7 (7), 6-4. The 27-year-old Halep is currently one of the best players on tour, despite not having a Grand Slam victory. She is currently ranked number 4 in the world and has 15 WTA singles titles. If Halep defeats Jelena Ostapenko she will become the first Romania woman to win a Grand Slam since Virginia Ruzici in 1978.
Mixed doubles champions at the French Open
In the French Open mixed doubles final, Canadian Gabriela Dabrowski and Indian Rohan Bopanna defeated German Anna-Lena Groenefeld and Columbian Robert Farah 2-6, 6-2, 12-10. For Dabrowski and Bopanna, who were seeded seventh, this is their first Grand Slam title of any kind. Dabrowski previously made it to the quarterfinals in this year's Australian Open and last year's US Open. In 2010, Bopanna made it to the US Open final in men's doubles.