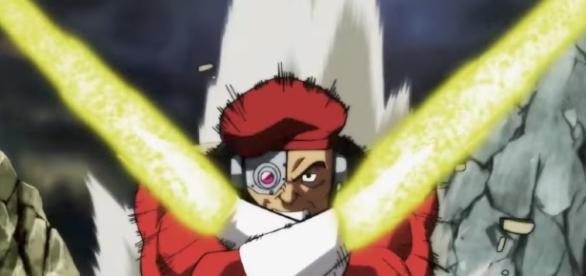 The mystery fighters from "#Dragon Ball Super" #universe 6 have been revealed in the latest spoilers. Three mysterious characters have been revealed and two of them are Namekians. Warning: Spoilers are ahead from new "Dragon Ball Super" episodes.
Who are the Universe 6 fighters?
According to Herms98, Jump has revealed the Universe 6 team comprising of Dr. Rota (the warthog), Pirina (a Namekian) and Saoneru (a Namekian). It has been confirmed that Universe 6 surprise fighters are Namekians. It will be interesting to see what the Namekians are capable of now that the Tournament of Power is at a critical juncture. Can they twist things up for Goku and company?
Jump shows off the rest of the U6 team: Dr. Rota (the warthog), サオネル/Saoneru (a Namekian), and ピリナ/Pirina (another Namekian) https://t.co/gW79O9yqKj

— Todd Blankenship (@Herms98) August 4, 2017
Gohan challenges Botamo
Gohan will be ruthless as Universe 10 warriors are cornered and challenged by Universe 7 warriors.
The #Weekly Shonen Jump spoilers for Episodes 103 and 104 have been released. Herms98, a trusted source, has shared the latest "Dragon Ball Super" Episode 103 spoilers published in Weekly Shonen Jump magazine.
In Episode 103 of "Dragon Ball Super," Universe 2 fighters have Universe 10 warriors stuck in a corner. Meanwhile, Gohan and other fighters from Universe 7 challenge Botamo and warriors from universe 10 to fight. Gohan is likely to take the center stage in this installment.
Spoilers for DBS eps.103 and 104, airing August 13th and 20th. Yes, it really does say 光速/light speed, not 高速/high speed. pic.twitter.com/S49LczntNL

— Todd Blankenship (@Herms98) August 3, 2017
Goku and Hit form the best tag-team
Only the best fighters remain in the anime's Episode 104 titled "A Faster-than-light Battle Begins! Goku and Hit's Joint Front!!" According to Weekly Shonen Jump spoilers for Episode 104, Goku and Hit join forces to become a formidable team in order to take down the fighters from other universes.
When Goku and Hit collided in the past, it was a different scenario. Now, they will be fighting together as a single unit.
This week On "Dragon Ball Super"
Episode 102 of the anime show is scheduled to air on Sunday, Aug. 6 on Fuji TV and the white-hot battles continue at the tournament. Brianne from Universe 2 merges with her allies Su and Sanka. She transforms into Ribrianne. It remains to be seen how powerful this character is.
Meanwhile, No. 17 is unable to take the hint and immediately attacks. He attacks when Brianne is still in the transformation stage. No. 17 is criticized for his actions by not only the members of Universe 2 but also by Goku. Goku is known for his principles on the battlefield.
"Episode 102 is directed by Masato Mitsuka. Koji Nashizawa is the animation director while Atsuhiro Tomioka is the script in-charge.
"Dragon Ball Super" episodes air every Sunday on Fuji TV at 9 a.m. JST. Stay tuned for more anime spoilers and updates.