Carmelo Anthony post photos of La La Anthony on Twitter
It seems that Carmelo wants to resolve the problems between him and wife as soon as possible.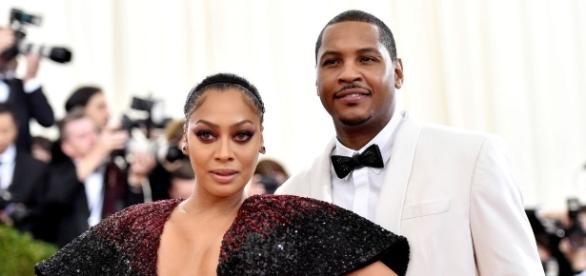 #Carmelo Anthony and La La Anthony may be separated, but that did not stop the basketball player from showing his love for the "Power" actress. Anthony took to his Twitter last night to share two sexy photos of his wife, who stunned in a white outfit with her hair in a ponytail. He simply captioned the pictures with two emojis and wrote, "I still love you La La."
Carmelo Anthony wants her back in his life
Carmelo Anthony and La La were in the headlines when they ended their seven-year marriage in April 2017. The news came after Mrs. Carmelo moved out of their house. When the #Daily Mail asked about their separation, she said that things could not work, so they had decided to separate their ways.
Carmelo's tweets come after his estranged wife opened up about their relationship and split during an interview with Daily Mail. La La admitted that she had no plans to divorce the basketball player, but he deemed to be non-serious about this relationship.
Even on "The Wendy Williams Show," Mrs. Carmelo talked about her personal and professional life. She revealed that she was with Carmelo for seven years, and it wasn't an easy decision for her to move on without him. The couple is going through tough time, but Carmelo still maintains an amicable relationship with La La.
A picture's worth a thousand words and an emoji is just a small picture, so Carmelo sent his wife a 3,000-word love letter in a single tweet. Does he want her back in his life? His latest efforts reveal that the athlete is still in love with La La and wants her to forget the past.
Considering that Carmelo called La La his "world" in the past, this latest message came through loud and clear.
👀❤️🌏 pic.twitter.com/RdwwMdBkcR

— Carmelo Anthony (@carmeloanthony) July 30, 2017
Anthony as a father
Mrs. Carmelo openly admits that Anthony is an amazing father. She names him as "the best dad in this world." In 2004, Anthony became engaged to Alani Vazquez. Their son, Kiyan Carmelo Anthony, was born in March 2007. Anthony tied the knot with La La on July 10, 2010, in New York City. VH1 filmed Their wedding ceremony for use in "Full Court Wedding."
Shortly after their separation in April 2017, TMZ reported that La La had moved out of the couple's apartment. Earlier this month, she told IB Times that Carmelo had cheated on her. They have a son together, Kiyan, who remains their focus regardless of their marital problems. Several weeks after their separation, both parties have yet to submit their divorce petitions to end their relationship officially. #La La Anthony