'Counting On' Joy-Anna Duggar and Austin Forsyth controversial PDA not obscene
Joy-Anna and her husband Austin Forsyth's act of affection drew a lot of criticism.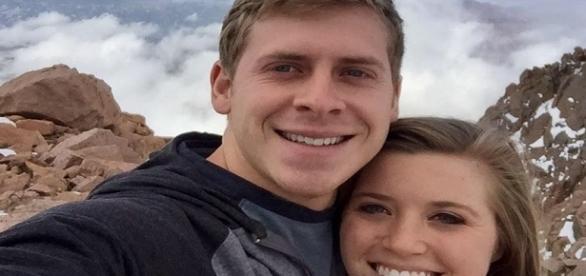 "#Counting On" stars Joy-Anna Duggar and her husband #Austin Forsyth became the center of a controversy lately. The newlywed was snapped with Austin lying on a sofa with Joy-Anna sitting on his thigh. Many saw it as an obscene PDA and worse is that it was seen as having a sexual connotation. It was taken during the filming of "Counting On: After Show" hosted by Daphne Oz.
Many saw it as improper and beyond the boundary of what is proper behavior reported The Hollywood Gossip. But some supporters that are close to the Duggars say that the act was just natural for the pair that was still on their honeymoon. Jill Duggar's sister and Austin were married on May 26, five months earlier than the first revealed date.
At present, the pair has settled in Arkansas near their parents' home.
Duggar daughters raised to be prim and proper
The Duggar daughters were reared by their parents Jim Bob and Michelle Duggar to be modest, upright, and prim and proper. They wear appropriate and decent clothes. They have courtship and engagement rules to follow. Joy-Anna being one of the married Duggar daughters and the subject of many criticisms because of her show of affection towards her husband is not obscene or rude.
For married couples especially when they were just married, showing affection in public is inevitable. Joy-Anna did the "act" while every Duggar family member including the Daphne Oz were there. Camera men and TLC's "Counting On" crew were there. If the 19-year-old wife is out for a sexy PDA, it would not be at the center of the filming where her family members are present.
Michelle Duggar's daughter was talking to somebody while sitting on her husband's thigh. The whole thing was just given a malicious meaning and Cafe Mom mentioned that Austin Forsyth's wife is still immature.
Seeing the whole situation in a bigger frame, it would not look awkward. Besides, knowing the very proper and well-mannered Duggar daughters, Joy Anna is not conscious that the public will think of the action as rude because for her it was not an improper act.
Joy-Anna blissfully in love
Joy-Anna Duggar was seen as a woman so in love with her husband. Sitting on her husband's thigh was just like kissing passionately before everyone's eyes. The hugging, the playful PDAs, and the kissing are just normal acts of people in love who are still enjoying the bliss of their honeymoon. A "Counting On: After Show" episode will show how the married Duggar couples connect to their spouses. They are epitomes of true love, devotion, and adoration. #joy anna duggar