Students putting their lives on lease to enrol in colleges and universities
This year student loan debt has broken all the previous records with average debt of $30,100.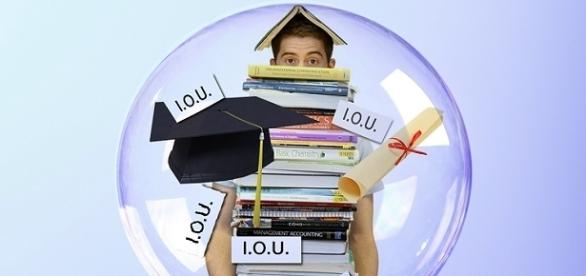 A new study conducted by the institute of College Access and Success (TICAS) has found that last year's graduating class has passed out of college with not just their skill certificates, but with a high degree of #student #loan #debt as well.
American students in debt
Young graduates of 2015 have exchanged literacy with an average student loan burden of $30,100, which is increasing every year vehemently. This average debt amount is higher than ever before. Undoubtedly the loan business is flourishing in the educational sector, but it varies from state to state like in Utah the average student debt is $18,873 and $36,101 in New Hampshire.
The actual number could be well higher as this study only examined those students who graduated with a four-year degree and third degree debt torture.
Students believe their lives are not their lives anymore. They feel as if they owe their lives to government because of this education system that seems more like a trap than a favorable plan. The education that was supposed to accelerate life's growth process is actually making quality of life worse.
It's a lucrative business for them
Many policy makers show a positive approach concerning the student debt loan. I guess they consider student loan as a method of teaching an additional subject of finance management where students learn how they can live their lives on lease where happiness takes a backseat to mounting debt.
Game of politicians
Student loan debt in America is nearly $1.4 trillion.
So many politicians including Bernie sanders, Hillary, and Trump have ranted about it, perhaps to take advantage of young students in this political atmosphere. Presidential candidates preach debt-free college plans in speeches and easy repayment programs in exchange for their votes. However, the fact is seven out of 10 students in America are in debt and politicians are trying to change the statistics with words only, which is very unlikely.  
Some rely on Trump to triumph over this debt dilemma while some say it's hilarious, while and others prefer to be a voiceless nightingale.