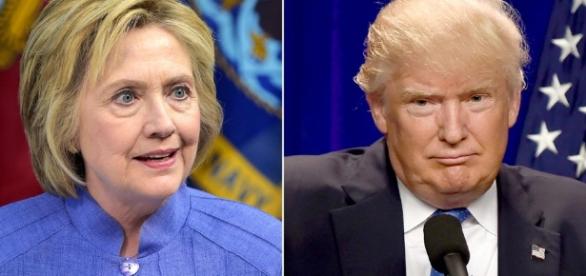 #GOP presidential nominee #Donald Trump's campaign is falsely stating that newly discovered emails between State Department and Clinton Foundation aides are additional evidence that the two entities are inappropriately connected somehow. The Trump campaign's phony allegations emerged just one day after the disgraced real estate mogul and insane madman joked about the possibility of an assassination of opponent #Hillary Clinton, (D), by "second amendment people." Trump's comments caused a tornado storm of adverse reactions worldwide, and on both sides of the political aisle in the United States.
Self-enrichment accusations
According to the Trump campaign and the conservative, myopic "watch" organization "Judicial Watch," Hillary Clinton's personal objective is to enrich herself while hiding behind the guise of philanthropy.
The uptight and socially degenerate organization claims to have released 44 emails that it wrongly describes as proving the existence of an "inappropriate relationship" between the Clinton Foundation and the State Department. However, Judicial Watch failed to provide any substantive evidence of such a relationship other than its own dogmatic beliefs and highly intensified paranoia.
A job and a connection
Allegedly one of the emails was from Doug Band, a Clinton Foundation attorney, who was requesting that an associate of his be provided a job. Band apparently was sent a reply from another Clinton Foundation aide stating that the human resources department has been "in touch" with the job seeker. In the other email, Band asked that a connection be established between a wealthy Clinton Foundation donor and U.S.
Ambassador to Lebanon, Jeffrey Feltman.
Campaign's response to allegations
Clinton campaign spokesperson Elizabeth Trudeau steadfastly defended Clinton and the Clinton Foundation. Trudeau stated that the email communications did not involve the Clinton Foundation's work or candidate Hillary Clinton. Trudeau stated that the communications were between aides from the Clinton Foundation and the State Department. She further emphasized that the first email involved the job hunting efforts of a former State Department aide, and did not involve inappropriate dealings between the State Department and the Clinton Foundation.
The timing of things
The State Department has revealed that the two emails emanated from a time period in which there was a gap in Clinton's emails prior to March of 2009. However, Clinton has revealed that the gap was the result of technical problems and record keeping issues and not the result of any conspiracies or cover-ups from Clinton, her foundation, or the State Department.
One peculiar endorsement
The Trump campaign's efforts to portray these new email revelations as a conspiracy between the State Department and the Clinton Foundation comes just days after Trump somehow received the endorsement of an African-American church. How or why this happened, or what promises were made, is yet to be revealed. Meanwhile, don't hold your breath; the next endorsement of the bigoted, racist, homophobic, and misogynist madman and assassination threat suspect, Donald Trump, by an African-American church, will be a long time in coming.