Huma Abedin has all of the Weiner she can take
The Clinton camp has a new kind of old scandal to deal with, and he is a Weiner, Hillary has experience with that.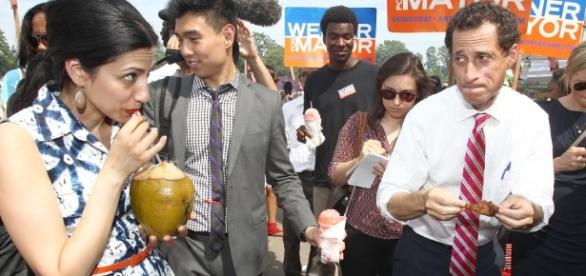 Former New York Congressman Anthony Weiner is sexting again on Twitter, or maybe he never stopped to begin with. First he had to resign from Congress because of sexting pictures of his pride and joy. Gone from the public eye Wiener resurfaced and ran for mayor of New York City, but again sexting pictures of his bad boy resurfaced with another victim, and Wiener pulled out of the mayoral race.
During both these incidents Mrs. Wiener, #Huma Abedin stood by her man. Humiliated but supportive Abedin, #Hillary Clinton's long time aid appeared to have taken a page from her boss's playbook. She too stood by her man even though Clinton showed long ago she had no clue how to control her husband's or Abedin's wiener.
Clinton's top-assistant Abedin says she's leaving her husband after new scandal. https://t.co/otz8iU1K0S

— Voice of Europe (@V_of_Europe) August 29, 2016
Bill Clinton lucky he did not have Twitter
Had Twitter existed years ago when Bill Clinton was President, Hillary could have been the one standing in front a crowd of reporters defending her Weiner, metaphorically speaking. This does however speak to the kind of people who will again inhabit the White House if Clinton wins the election in November. Every new scandal within the Clinton camp helps to prevent that embarrassment from becoming reality.
This unacceptable behavior is not okay for a Congressman or a mayoral candidate, and it definitely is not okay for a married man to be sending pictures to women other than his wife. Abedin has displayed tremendous understanding in staying as long as she has with this Weiner, she obvious is not what he is looking for as a lifetime partner.
Weiner needs some serious help
Weiner needs some serious help from some mental health professionals. In this latest sexting episode, Weiner's infant son was lying on the bed next to him, while Abedin was out working to provide. Since exiting the mayor's race Weiner has been a stay-at-home house husband taking care of the couple's child and obviously surfing the internet.
Huma Abedin and Anthony Weiner are separating pic.twitter.com/4WVZxfTMmo

— Bradd Jaffy (@BraddJaffy) August 29, 2016
Abedin has announced the couple will be separating and asked for privacy during this difficult time. The request for privacy in itself is kind of hard to believe, pictures of her husband's namesake are all over Twitter and the internet. Weiner's Twitter account has been deactivated as of Monday morning, this has not been confirmed so it might be premature to say that Weiner is done with Tweeting and sexting. #Anthony Wiener