Burkini Gate: why it's a non-issue in most African countries
Despite a wave of terror attacks in the continent in the past few years, the Burkini is still a non-issue in Africa.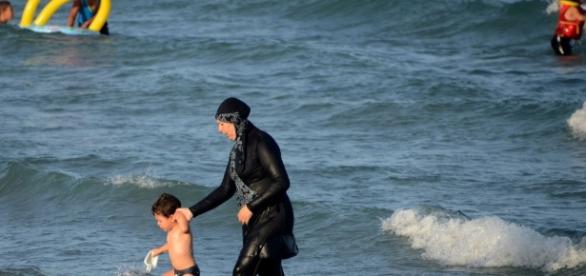 As the debate on the controversial Burkini ban in France continues, most African governments remain unperturbed over the mode of dressing of beach goers in their countries. Despite the continent experiencing more terror attacks than France in the past 2 years, None of the governments have found a correlation between the Burkini and rise in terror attacks. The Burkini which was invented by Australian-based Lebanese designer Aheda Zanetti derived its name from the Burqa and Bikini and was aimed at providing a decent beach wear for Muslim women.
However, several cities across France have banned the Burkini in recent months citing terrorism and hygiene reasons.
Earlier in the week news sites and tabloids were awash with photos of French police officers forcing a Burkini-clad beach-goer in Nice, France to remove part of her clothing in a bid to enforce the controversial ban. Nice became the latest city to ban the Burkini after a Tunisian man pledging allegiance to the Islamic State drove a lorry into a crowd celebrating Bastille Day killing 84 and injuring over 300 in July. Former president and presidential hopeful Nicholas Sarkozy has called for a nationwide ban of the Burkini terming its wearing as a "provocative and militant act."
Most African countries have not yet embraced secular dressing
Like France, several African countries have in the past faced terror attacks orchestrated by several extremist groups around the continent. In 2015, four African countries namely Congo, Guinea, Cameroon and Chad banned the wearing of the Islamic veil in a bid to control terror attacks.
Cameroon and Chad had in recent times faced attacks carried out by Nigerian headquartered militant group Boko haram. Authorities in the four countries stated that the ban was not aimed at victimizing Muslims but rather curbing terror attacks orchestrated by Niqab-clad men posing as women. Whilst authorities in those countries were quick to ban the niqab, none of the authorities have suggested banning the Burkini. Many African countries regardless of their religious affiliation prefer their women dressed conservatively. Not many women have embraced nudity and skimpy dressing practices. Show of skin above the thighs is still considered a taboo in many African countries. It is well remembered that in 2014 several women were stripped by some members of the public across the Kenyan capital for being skimpily dressed.
Muslim majority in North Africa and some parts of East and West Africa
The Northern part of the continent is mostly inhabited by Muslims. Despite countries like Egypt, Tunisia, and Libya facing terror attacks in the past, none of the countries have banned the Niqab, let alone the Burkini.
To the majority of women in North #Africa the Burkini is a practical solution to their beach wear problem. Earlier in the week, a French- based Algerian businessman offered to pay fines for all the women caught breaking the Burkini ban laws in France. In some parts of East Africa like coastal Kenya and Tanzania, the majority of the population practice Islam as their religion and the same case applies to West African countries like Gambia, Guinea, and Senegal. It is also known that Muslims in these countries are not as hard-line as their counterparts in the Middle East. #ISIS