Can we still trust food giants with our child's meals?
Take a peek and see something disgusting inside your child's snack pack.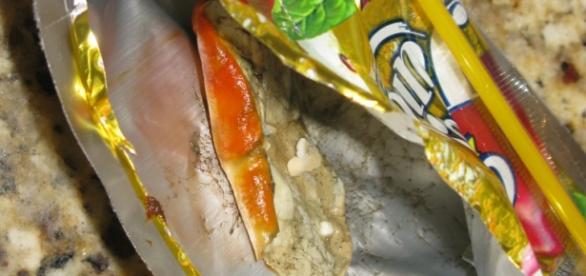 Ready-made snacks are very well-liked by kids as well their parents. Why wouldn't it? Parents, especially those who work, will go home tired and weary from a long day at work. Because of convenience, parents would opt to buy ready-to-eat snacks for their children. The availability of ready-made food means that parents save time from preparing their child's meals or snacks. It is very easy to find something that will suit your child's dietary need these days. Different brands are available from the so-called the so-called "healthy" options to the "organic" food choices. "Free-from" food is also readily available in the groceries for children who are allergic to dairy or gluten.
The variety is endless!
However, parents are reporting incidents where they found molds or other hideous substance lurking inside their kid's snack. Despite having the "Expiration" or "Best before Date" way ahead, it just seems that food manufacturing companies are becoming negligent when it comes to hygiene in food preparation.
It is alarming that despite the number of reported incidents, these food manufacturing giants don't even seem to care. Sure, most of these companies have a Toll Free Customer Care number or email address printed on their food packaging, but how good are they when it comes to responding to these reports? Frustrated parents who meet these issues firsthand would vent that all they got was a free coupon or voucher as a form of apology from the company! It is rather infuriating to receive a discount voucher subsequent to reporting an incident that could potentially put your child at risk.
It could be worse for some parents, though. There are some who did not receive any response.
It is upsetting to know that these reported incidents do not involve new or small brands in the market. Sadly, there are some very well-established brands whom we grew up with and loved when we were kids are also caught in this type of negligence. It is hard enough to trust a brand or company when making choices that concern our kids. But what effect would it bring to these already tired parents upon knowing that even big companies who swear by health and safety expose our children to possible food poisoning?
As parents and consumers, we take the words of these food manufacturing companies when they say in their labels that they are after our child's well-being. While the campaign for healthier and natural food for kids is getting stronger, it is hard to get rid of ready-made food. It allows tired parents to have "one less thing to think about." So let's just hope that these companies step-up-a-notch when it comes to food quality and hygiene. Implement stricter rules and more frequent tests to make sure that quality is top-notch before leaving the factory. Apart from that, let's hope they take complaints seriously. It is one thing to print hotlines and email addresses to contact, but it is a different thing to give proper action once complaints are received. #News