Airbnb Open faces protesters demanding restrictions in LA
Airbnb's annual event closed with hundreds of people protesting the app's impact in the city's housing market.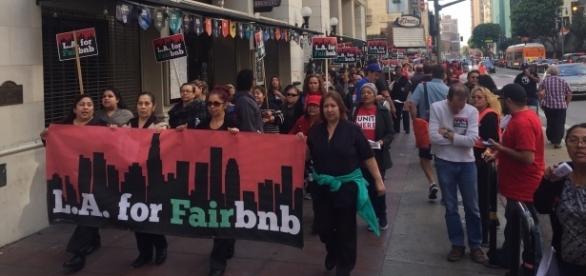 Hundreds of protesters marched downtown #Los Angeles this Saturday, but this time it wasn't one of the anti-Trump rallies that have been swarming the city. It was a protest against what they deemed "unfair" and "illegal" practices by home-renting app Airbnb, on the final day of the annual event #AirBnB Open.
Chanting "No justice, no peace" and "Airbnb has got to go," protesters marched up and down the main locations where Airbnb Open has gathered thousands of hosts, speakers, and guests for the past three days. The rally was organized by a coalition that includes labor union Unite Here Local 11 and the Los Angeles Alliance for a New Economy (LAANE).
It was the last of a few initiatives meant to garner the attention of hosts, travelers, and the media.
Airbnb hurting housing, not hotels
"We want people to be able to share and rent their home. What we don't want is to see housing taken off the market," says LAANE deputy director James Elmendorf. The problem with Airbnb, he explains, is that the company is allowing professional landlords to rent out part or the entirety of a building via the service. That is hurting the local housing market, which is in a state of total mess.
Initially, LAANE took a look at Airbnb to see what kind of impact it was having in hotels and hotel workers. But it turned out the biggest impact was on the housing market. There's a less than 3% vacancy rate in Los Angeles, which is one of the reasons why rents have been going up steadily all throughout the county.
"We noticed that since Airbnb started to come to LA rents started going up twice as fast in those neighborhoods as it has in the rest of the city," Elmendorf states. He's talking about the nine neighborhoods where Airbnb rentals concentrate, including Venice, Hollywood, Silverlake, Los Feliz and Downtown. "Is it all because of Airbnb? Obviously, no one can say, rent is increasing everywhere. But Airbnb sure seems to be having that effect."
According to LAANE's estimates, there are about 25,000 LA housing units on short-term rental platforms at any given time. In Venice, more than 10% of the available housing is on one of these platforms, effectively being taken out of the rental market.
Is it illegal?
Airbnb's principle is to allow regular people to rent their own homes when they're out of town, mainly to tourists and for a very short period of time. But with landlords and professionals taking over, that means half of a building might be permanently available on Airbnb. That is the case with a fairly new, luxurious building in Downtown LA (8th + Hope), which was having a hard time renting all the units because of the high rent it was asking – around $8,000 a month.
Now, 23 units are rentable on Airbnb. The permanent tenants in that building, where LAANE held a press conference, have complained of constant noise and disturbances, something like having a hotel next door.
If these units weren't transferred to Airbnb, LAANE argues, the rents would've been lowered to create demand.
"It is absolutely illegal right now for someone to rent out this way. They're violating zoning rules, building codes. What the city is proposing to do is establish clear rules about what we do and don't want", Elmendorf states.
Airbnb might see a strong set of restrictions coming its way in the next few months, as LA's city council prepares to look into the matter and impose regulations. That's what happened in Santa Monica last year, which brought the units available on Airbnb to about half in that city.
What is Airbnb doing about it?
Various organizations have spoken with Airbnb, and their official position is that they can't control it. Elmendorf says that's not true. "We know they play an active role in creating what happens. They go out and photograph people's homes. So when it's a landlord, they know. When they see the same host with 23 units, they know." Why don't they take care of the problem? "Because 90% of their revenue comes from those landlords," Elmendorf argues. #Sharing economy