The real scandal; Hillary Clinton's silence on #NODAPL
While many are busy discussing the FBI's reopening of the Clinton email case the real scandal is Clinton's silence on Dakota Access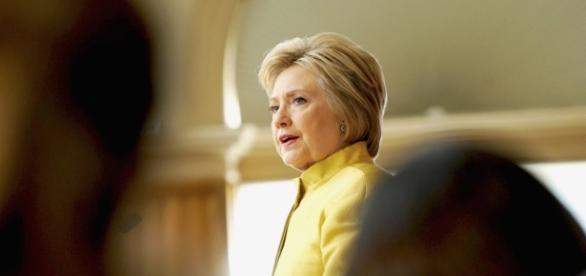 News broke Friday that the FBI was reopening is investigation into #Hillary Clinton's use of a private email server while Secretary of State, but the real scandal is Clinton's silence on Dakota Access. Former Presidential hopeful Vermont Senator #Bernie Sanders has come out aggressively against the pipeline and staunchly supports indigenous rights. He has called upon both Secretary Clinton and President #Obama to do the same. Not surprisingly, neither has done so.
The White House is Uncle Tom's Cabin
In a 2008 "Fox" radio and subsequent television interview Ralph Nader stated the question was whether Obama would be "Uncle Sam" for the American people, or "Uncle Tom" for the big corporations.
The "Fox" television host unsurprisingly did not understand the reference lambasting Nader to portray him as racist. Every thing we have witnessed in Obama's eight years as President has proven Nader correct, and millions of African Americans have subsequently referred to the President as "Uncle Tom." Meaning what? Uncle Tom was a character in Harriet Beecher Stowe's book "Uncle Tom's Cabin." An early critique of the racist institution of slavery. Uncle Tom was a black sell-out who looked out for his own interests above the interests of his own people. By ignoring the civil rights violations committed by militarized police against indigenous water protectors Obama is proving Nader correct. He is being an Uncle Tom for the big fossil fuel corporations. Obama's inaction here is just as infuriating as Clinton's silence.
Obama's inaction and Clinton's silence
Obama cannot simply blame his inaction on Congressional Republican obstructionism here. He is Commander-in -Chief of the Armed Forces of the US. Why is North Dakota state Gov. Dalrymple being allowed to use the National Guard (federal military personnel)? Why is Obama not exercising his executive authority here? With only 8 days until the election Presidential hopeful Hillary Clinton has remained silent on the Dakota Access pipeline. "Last Real Indians" reported that while the Clinton campaign slogan is #ImWithHer the continuously free and independent indigenous peoples and nations are wondering #IsSheWithUs? Senator Sanders has issued a letter to President Obama, and repeatedly called on Clinton to take the correct position opposing the Dakota Access pipeline and defending the human rights of indigenous peoples, and still silence.
Climate Change is the biggest issue facing humanity
It is no surprise then that Sanders was overwhelmingly favored by indigenous peoples above Clinton in the Democratic Primary.
Clinton's silence has many on social media calling to #BringBernieBack. Climate Change is the greatest threat to humanity. It received a passing mention by Clinton in the final Presidential debate. The continuously free and independent indigenous peoples and nations are on the front lines. Our communities and territories are the first to be impacted by Climate Change. Indigenous water protectors defending the environment against Dakota Access are defending all of humanity, and all of creation. The egregious violations of law by North Dakota's government have many indigenous peoples calling for "consultation."
Consent not consultation
"Meaningful consultation" is a part of the vocabulary of the colonizer. It sounds nice, but we must stop using it. We are nations, not tribes, we are not subject to the racist domestic laws of the US. We have an international legal relationship with the US based on treaties. Our rights are protected under international law. The United Nations Declaration on the Rights of Indigenous Peoples is clear. Indigenous peoples must have "free, prior and informed consent" for any actions the settler state wishes to undertake in our territories. If we do not consent, the settler state cannot act. Period. Hillary Clinton, we do not consent. Do you stand with Standing Rock?