Bette Midler conjures up ghoulish Halloween Bash at haunted Waldorf Astoria Hotel
Bette Midler casts her spell again at annual star-studded Hulaween gala at the Waldorf Astoria.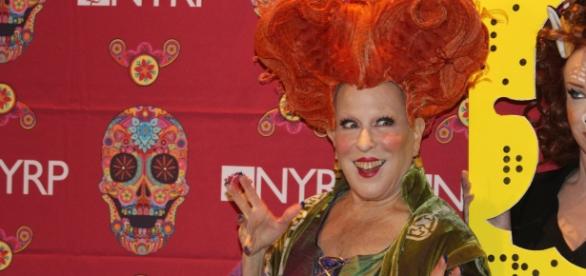 Bette Midler's annual star-studded Halloween gala paid homage to witches, wizards & warlocks
It was a bewitching cast of characters at #Bette Midler's Annual Hulaween Bash at the Waldorf Astoria in New York City. The theme transformed the Waldorf into a Haunted Hotel inundated by Witches, Wizards & Warlocks. Check out my pictures. The hotel was transformed into a stunningly eerie immersive #Halloween world by set designer Douglas Little. He has worked with Lady Gaga and Dita Von Teese, among others.
I caught up with Bette and asked about her ghoulishly stylish costume. "I was inspired by Winnie Sanderson from the movie "Hocus Pocus," which I starred in, by the way back in 1993.
The look is a throwback to the 17th century." Could Bette be conjuring up a sequel? Her adoring fans certainly hope so.
Costume contest judge, designer Marc Jacobs remembers Halloween past
Designer Marc Jacobs, the judge of the Halloween contest, could have taken the prize home himself. He was transformed into a she, of sorts. I asked Marc about some Halloween memories. "When I was seven-years-old, I was a skunk, and it is still one of my favorite costumes that I wore and designed." 
Other red carpet notables included Sandra Bernhard, who said her costume was inspired by designer Marc Jacobs, entertainer Kathy Griffin, Darlene Love who also performed, Debbie Harry, Mario Cantone and Bobby Kennedy. 
The Devine Ms. M's annual Halloween gala also benefits a worthy cause. Money raised is earmarked for her non-profit organization, the New York Restoration Project.
Founded in 1995, ##NYRP has planted over a million trees, renovated gardens and transformed open space for communities throughout the five boroughs of New York City. Bette says as New York's only citywide conservancy they provide resources to underserved neighborhoods. 
If you miss hearing Bette belt it out, you can catch her on Broadway in the upcoming revival of "Hello, Dolly!"  Previews begin in March, and the show officially opens April 20, 2017, at the Schubert Theatre in New York City. #BetteMidler