Entenmann's Bakery and The Great American Milk Drive deliver milk to needy families
The Great American Milk Drive and Entenmann's Bakery team up to provide milk to those in need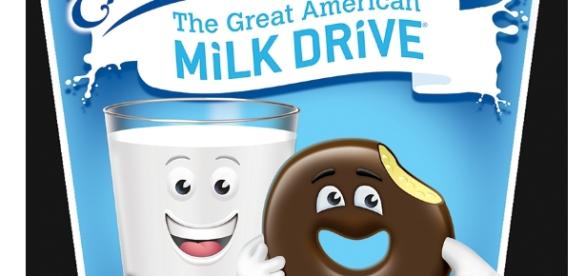 Milk is a nutritious drink that is an essential part of sheaths diet. Unfortunately, many struggling families across the United States do not consume as much milk as they should and this puts them at risk for health problems with children being the most negatively affected. To combat this, the #Entenmann's Bakery company is teaming up with #The Great American Milk Drive to launch a charitable campaign called "Donuts & Milk: Perfect Together Sweepstakes."
Goals 
The "Donuts & Milk: Perfect Together Sweepstakes" launched on Facebook on August 7, 2016, with the hope of ultimately delivering 100,000 servings milk to people in need.
Essentially, for every entry into the sweepstakes, Entenmann's will donate an 8oz. serving of milk to The Great American Milk Drive. This process will continue for up to 100,000 servings and consumers are encouraged to enter the campaign and possibly win an assortment of cool prizes. For example, twenty-five winners will be awarded the first prize of a one years' supply of milk and donuts while one-hundred second-prize winners will be awarded four boxes of delicious donuts. "Donuts and milk are definitely perfect together," said Victor Zaborsky, Vice President of Marketing for MilkPEP. "Our studies showed that 45% of people enjoy donuts with milk."
Mission 
Whilst working with Great American Milk Drive Entenmann's learned a great deal about the urgent need for milk in food pantries across America.
"We have a lot of fun with our social media sweepstakes even though there is a serious cause," said Senior Director of Marketing Lorraine Hale. "They're a great way to engage with consumers all over the country enabling us to benefit families' across America. The public's response has been extremely positive. The most rewarding part of working for this cause is knowing that Entenmann's is able to help children, especially now as families across the country ready for the back-to-school season. 'Giving back' is a key mission for the Entenmann's family."
Future 
Entenmann's is always exploring potential partners so future projects such as this will likely be seen in the near future. In fact, another back-to-school campaign is running until September 30 and it involves a partnership between Entenmann's Little Bites and Nature's Harvest bread. Together, the companies are hosting the "Life of The Lunchbox Sweepstakes" where consumers can enter for a chance to win a $10,000 savings bond and other great back-to-school prizes. "We also have two great back-to-school DIY's on our YouTube page that parents and kids can do together to make lunchtime fun," Lorraine Hale added. "We are always looking for ways to engage people and make the world a better place."  #charity