Why you need to hear Jesse Williams' speech
Jesse Williams' impassioned words were anything by a typical awards acceptance speech.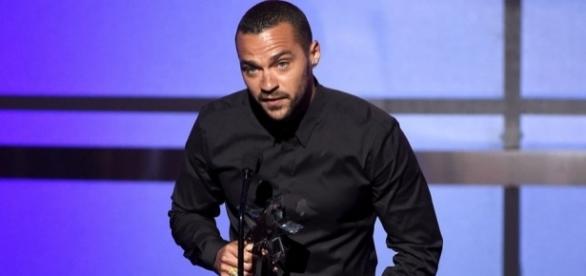 BET Awards
To say last night's Black Entertainment #Television Awards show was historic is probably a gross understatement. The night was filled with the expected artist performances and appearances. But what made it historic was not only the surprise stunning Beyonce and Kendrick Lamar set, the epic tribute to Prince, or the dedication to Muhammad Ali. Last night's award show was capped off by the speech given by Jesse Williams after receiving BET's Humanitarian of the Year award.
Williams hijacked the BET Awards with his nearly 5 minute long speech addressing racism, bigotry, and cultural appropriation.
The speech
After expressing his gratitude for the honor and thanking the countless activists that join him in the fight for equality, Williams highlighted incidents of police brutality "Yesterday would've been young Tamir Rice's 14th birthday, so I don't want to hear anymore about how far we've come when paid public servants can pull a drive-by on a 12-year-old playing alone in a park in broad daylight, killing him on television and then going home to make a sandwich. Tell Rekia Boyd how it's so much better to live in 2012 than 1612 or 1712. Tell that to Eric Garner. Tell that to Sandra Bland. Tell that to Darrien Hunt."
Williams then addressed the many critics of the various civil rights and social justice movements. "The burden of the brutalized is not to comfort the bystander.
That's not our job, all right, stop with all that. If you have a critique for the resistance, for our resistance, then you better have an established record of critique of our oppression. If you have no interest in equal rights for black people then do not make suggestions to those who do."
Jesse Williams may have been speaking at the Black Entertainment Television awards show, but, Williams' words were not merely for Black Americans, but for Americans as a whole. His message calls for us to be better as a country, not merely more tolerant of our differences. This is the message of Jesse Williams. And it's not just for Black Americans, it's for all Americans. #Hollywood #Actor