The road that leads to the clouds
There are many roads on Earth, but among these, one is truly astonishing.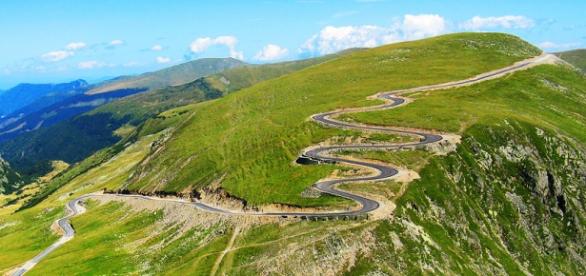 Called otherwise The King's road, Transalpina is the bridge between Oltenia and Transylvania and also the highest road of Romania that can be crossed with a car, from one end to another. The highest point of it reach 2145 m and it is called Urdele Pass. 
About Transalpina
Transalpina is the highest way of Carpathian Mountains in Romania so and beyond. The road has about 148 km and it crosses Parang Mountains from north to south and make a parallel with the Olt Valley and the Jiu Valley
The beginnings of Transalpina are unclear. Some sources claim that it was first built by the Roman legions during the Dacian wars. Also, there is a local legend that says that in the late XVIII and early XIX century, each family participated in the construction of a portion of the road, depending on their physical and financial possibilities. According to other sources, the road was made and paved by the Germans during World War I, for military reasons, but was hardly used. The fact is that this route known as "Devil's Path" was originally a mountain path used by shepherds from the Sibiu border in order to cross the mountains with their flocks in the Romanian Country. Later, taking into account the lessons of World War I, King Charles II wanted to have an available and strategic road for the mountain artillery, which can be traversed by troops that moved between Wallachia and Transylvania. 
The trail
Today, Transalpina (DN67C) can be covered in 3-4 hours on the trail: Sebes, Sugag, Obarsia Lotrului, Ranca, Novaci.
The starting point of the road is Jina, then it falls to Sugag and afterwards it climbs up to the left until Obarsia Lotrului. Next, the road reach Meadows of persecution - the place where many years ago locals who wanted to leave the land were punished. The most spectacular portion of the road is before Ranca. A meandering trail runs in front of the eyes and suddenly the mountain disappears. Forward is Doll Peak what truly offers outstanding landscapes. Finally, the road ends as spectacular as it began with Ranca resort through Novaci. #News