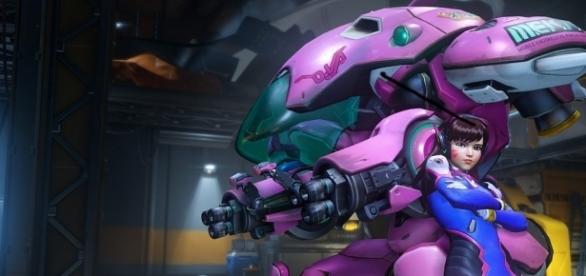 #Overwatch has become one of the most beloved games of the year. The game has no campaign mode whatsoever, though it has an addicting multiplayer mode with plenty of objects to unlock. Players can unlock skins, symbols, and many more to each hero. There are a lot of fun characters to play as in the game, but one of the greatest and equally funnest is D.Va. There has been an announcement that the character will be getting a huge #Statue which will be available for purchase.
Who is D.Va?
D.Va is a character in the game that is powerful and fun to use. She primarily uses a robot like machine to shoot foes with a machine gun, along with being able to boost forward at a high speed.
The character can also use a small shield to use as cover and to block incoming fire. It is totally satisfying to destroy enemies and fly forward to push enemies back. Even when the mech is destroyed, D.Va can eject herself from the device and kill enemies with a highly accurate pistol.
Her special ability is also very good as it can kill enemies close and far away. The mech overloads and blows up causing mayhem and significant damage to enemies. She also has the ability to call another mech after one is destroyed.
D.Va statue details
The girl character will be huge and sport a lot of great detail. The statue is said to look amazing by the site Gamespot. It will be expensive to purchase though costing about 450 dollars.
The figure is entirely hand painted and features D.Va sitting on the blaster with her mech.
It is very well designed having the decals and all the details that fans would expect.
It is a massive figure, GameSpot reports that it is 19 inches tall with its base, 18 inches wide, and the base itself is 13.5 inches in diameter. A video on YouTube posted by PlayOverwatch and it lists the details and size of the statue in full display.
Other Blizzard statues
Blizzard has announced other statues for several other high end characters in the past months. D.Va will be joining a cast of characters. There are statues for characters Tracer, Reaper, and Widowmaker as well. The other three figures cost about 150 dollars each.
D.Va is the most expensive statue yet out of all of the collection. The price tag of the D.Va exceeds even the other popular well known Blizzard game "World of Warcraft."
How can I buy it?
The latest figure will be available for pre order on Blizzard's website. The prominent brand will be looking to make even more revenue. It will be expected to release in Q4 2017 or the end of the year. The company has warned that the final product will differ from the images.
The product will certainly empty customers pockets, but for lifelong fans of the brilliant game it will be worth it. The figure is a great collectible to have as well. Fans will await the statue's release. #Dva