Two teenagers rescued in the Paris Catacombs after three days
Two male teens that went off the official tourist trail in the Paris Catacombs have finally been found after being lost for three days in the dark.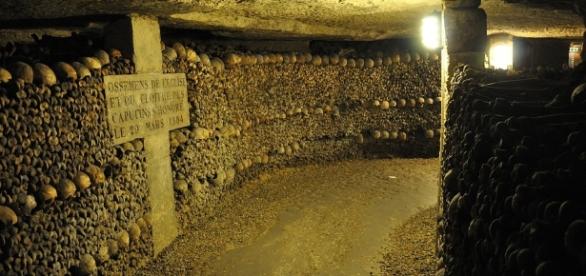 Search teams with rescue dogs were sent out after two male #teenagers, aged 16 and 17, went missing in the #Paris Catacombs. They have finally been found Wednesday, three days after getting lost in the gloomy dark tunnels under Paris, France. While they were both treated for hypothermia, they are unharmed.
Lost in the catacombs of Paris
It is unknown whether the two teenagers in question had snuck off on purpose, or had genuinely become lost, but the area of the tunnels they were discovered in was completely dark and reportedly the ambient temperatures down there are around 15 degrees Celsius (59F).
A Paris fire service spokesman says it was only due to the help of their dogs that they found the two teenagers.
It is unknown how the teens became lost or who raised the alarm about them being missing. However the tourism operator for the Catacombs museum did stress that no one ever got lost in the two kilometers (just over one mile) of tunnels which are legally accessible to the public.
Two Teens Found After Being Lost In Paris Catacombs For 3 Days https://t.co/A3NOHrUYjd

— Luxury (@Luxury_etc) June 14, 2017
150-mile maze lined with the bones of the dead
The Paris Catacombs consist of a network of underground tunnels, running for some 150 miles underneath the city of Paris. Towards the end of the 18th century, human remains from the cemeteries of Paris were moved into the tunnels for public health reasons. Authorities in Paris estimate that the bones of around six million people are to be found in the Catacombs, neatly lining the walls.
Only a small section is open to the public and can be accessed through an official visitors' point in the city.
The site is a popular destination for tourists and reportedly there are always long queues to visit. However, since 1955, the city of Paris has made it illegal for anyone to access the balance of the tunnels and galleries outside of the marked off area, but people take chances from time to time, sneaking through secret entrance points within the maze of tunnels.
The Local mentioned the story of an American surfer who waded through the flooded tunnels down in the lowest levels of the Catacombs, wearing a bikini and on her board last November.
VIDEO: Bikini-clad American 'surfs' Paris catacombs - https://t.co/XFg1dhJQXF pic.twitter.com/q5f1dQeazB

— The Local France (@TheLocalFrance) November 2, 2016
A couple of Halloweens ago, Airbnb set up an unusual overnight accommodation in the Catacombs for the ultimate scary night, with breakfast, dinner and a private concert.
The Paris Catacombs offer a night's stay on Halloween thru airbnb http://t.co/F6rlJBVwnh pic.twitter.com/WIHIQaMaWM

— AnthroGeek (@anthrogeek1) October 15, 2015
As for people becoming lost in the Catacombs, Teen Vogue quotes Buzzfeed as reporting a while back on the legend of a man by the name of Philibert Aspairt, who in around in 1793 became lost in the Paris Catacombs and eventually died. He was only discovered eleven years later, close to an exit from the tunnels. #France